Football took over out lives starting late June to November. Texas doesn't kid around, starting at age 5 these boys are padded up and practicing night after night in the heat for one reason... To win! The steelers had a great season thanks to amazing coaches, who would push them to their limits, praise them, hold them responsible for grades, and would even go eat lunch with them at school. These Boys worked hard for every win. We couldn't be more proud! So if you don't like to be yelled at ( I would hear the coaches yelling in my sleep!), practice in full pads in the sweltering heat, or give up all your free time with friends than Texas football isn't for you...
This football mom couldn't take it! she needed a nap I guess. The heat will do that to ya!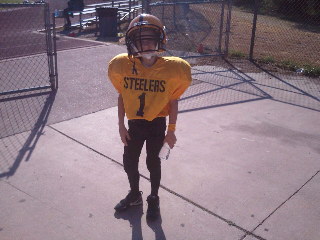 Showin' our boys some love!
After practice
Ticked off coach! You tell'um coach!!